WASHINGTON DC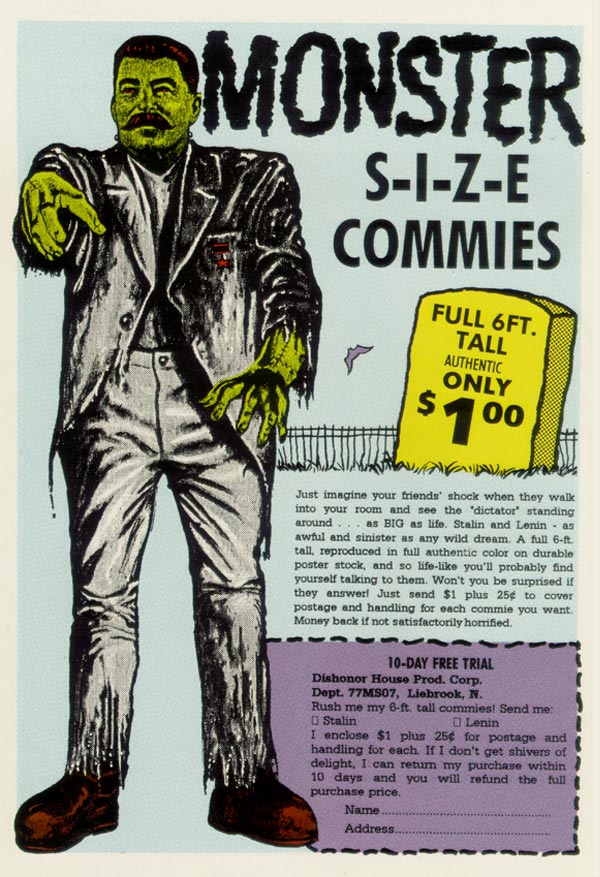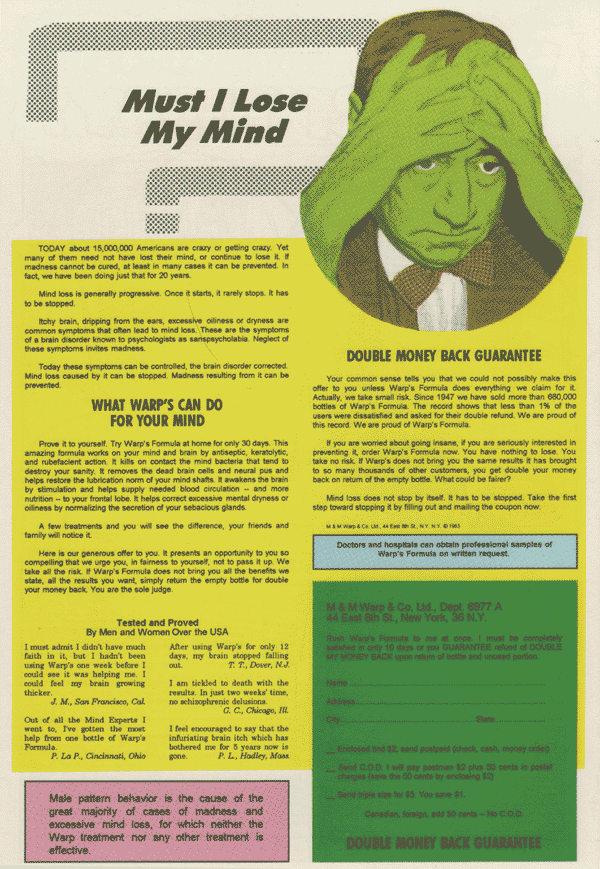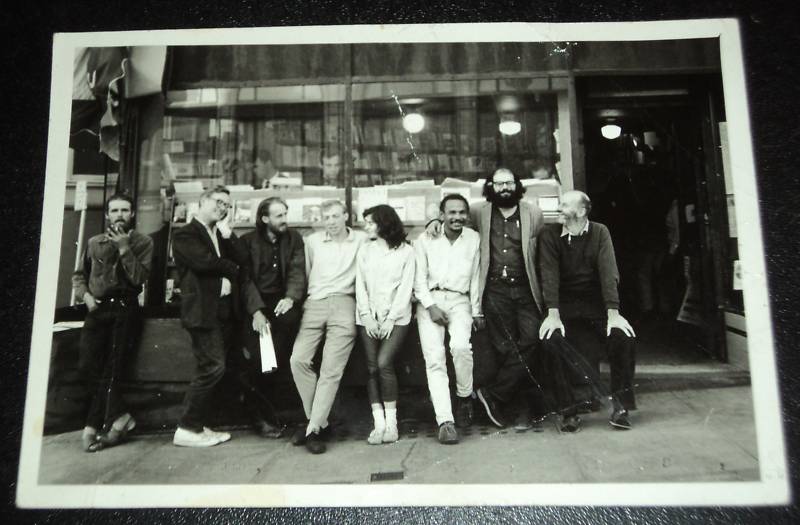 Beat Generation artists in front of City Lights Books store in San Francisco, 1963. From left: Pat Cassidy, Philip Whalen, Robert Ronnie Branaman, Alan Russo, Ann Buchanan [aka, Ann Plymell], Bob Kaufman, Allen Ginsberg, and Lawrence Ferlinghetti. Photograph by poet Charley Plymell, (used with permission, copyright 1963-2010, all rights reserved).
The CBS Evening News replaced anchorman Douglas Edwards with Walter Cronkite (1962), and a year later expanded the show from 15 to 30 minutes (NBC and ABC News followed shortly thereafter).



Millions watched televised coverage of Martin Luther King deliver his "I Have A Dream" speech (1963).



Network television news covered the events surrounding the assassination of President Kennedy and subsequent funeral (1963), followed days later by a live broadcast on NBC when Jack Ruby fatally shot assassin Lee Harvey Oswald during transport by lawmen in Dallas.



A national poll (1963) found that more Americans preferred television news (36%) over newspapers (24%) as a reliable source of information.



Instant replay came to televised sports (1963) when first featured in an Army-Navy football game, and was standard practice the following year.



Several new shows began multi-year runs (1963), including Let's Make A Deal (1963-76), The Fugitive (1963-87), and Mutual Of Omaha's Wild Kingdom (1963-88).
SATCHEL PAIGE MEDIA SHOT FOR HIS SATCHEL PAIGE ALL STAR BARNSTORM TOUR
Photo courtesy of Harvey Johnson
Throughout his career, Feller criss-crossed the country playing exhibition games in the off-season, showcasing his legendary fastball for fans in large, medium and small towns. His barnstorming tours often featured other big leaguers and/or Negro League stars, like Satchel Paige.
In 1947, Feller announced that he would pitch in the Cuban winter leagueduring the off-season, but major league baseball commissioner Happy Chandler ruled that no major leaguer could play in Cuba during the winter.
Feller's barnstorming business savvy made him one of the wealthiest players of his time. As a result, Feller did not have to take off-season jobs to make ends meet, like many players of his era did, which allowed Feller to become a physical fitness pioneer. While other players waited until spring training to get in shape, Feller had the time to do push-ups, sit-ups, calisthenics and stretching, following a rigorous regimen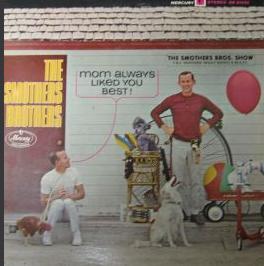 1963 Madison Wisconsin
Alabama Gov. George Wallace stood at the door of Foster Auditorium at the University of Alabama in a symbolic attempt to block two black students, Vivian Malone and James Hood, from enrolling at the school. The drama of the nation's division over desegregation came sharply into focus that June day.
It was the same year that civil rights marchers had been turned back with police dogs and fire hoses in Birmingham, Ala. The year began with Wallace vowing "segregation now, segregation tomorrow and segregation forever" in his inaugural speech.
During his campaign, Wallace talked of physically putting himself between the schoolhouse door and any attempt to integrate Alabama's all-white public schools.
So when a federal judge ordered Malone and Hood be admitted to the University of Alabama in Tuscaloosa that summer, Wallace had the perfect opportunity to fulfill his pledge, Elliott reports.
On June 11, with temperatures soaring, a large contingent of national media looked on as Wallace took his position in front of Foster Auditorium. State troopers surrounded the building. Then, flanked by federal marshals, Deputy Attorney General Nicholas Katzenbach told Wallace he simply wanted him to abide by the federal court order.
Vivian Malone Jones, then a 20-year-old transfer from an all-black college, said her goal was simply to sign-up for accounting classes. "I didn't feel I should sneak in, I didn't feel I should go around the back door. If [Wallace] were standing the door, I had every right in the world to face him and to go to school."
g
SCHWINN HORNET
Academy Award Winner Sidney Poitier March on Washington
Sept
2nd
In an interview with Walter Cronkite, President Kennedy says that more effort is needed by the GVN to win popular support. This can be achieved "with changes in policy and perhaps personnel".
10th
General Krulak and Joseph Mendenhall return from a 4-day assessment trip to Vietnam. Krulack reports that the shooting war is going well and that the political crisis has had little impact. Disagreeing, Mendenhall argues that disaffection with Diem's regime threatens the breakdown of the government. After receiving the contradictory reports President Kennedy asks "You two did visit the same country, didn't you?"
11th
The White House delays economic aid renewal for Vietnam whilst examining how it might used to pressure Diem.
October
2nd
After visiting Vietnam to further assess the military and political situation, Defense Secretary Robert McNamara and General Maxwell Taylor confirm the progress of the war. However, they recommend that some aid be suspended (but without formal announcement) to put pressure on Diem to reform. They also advise against a coup but state that alternative leadership should be identified and cultivated.

In accordance with the McNamara-Taylor recommendations, the White House announces plans to withdraw 1,000 U.S. troops from Vietnam by the end of the year.
5th
President Kennedy approves the McNamara-Taylor recommendations, including the unannounced suspension of the commodity import program.

In accordance with the McNamara-Taylor recommendations, the White House announces plans to withdraw 1,000 U.S. troops from Vietnam by the end of the year.
5th
President Kennedy approves the McNamara-Taylor recommendations, including the unannounced suspension of the commodity import program.

In a meeting with the CIA's Lou Conein, General Minh ask for clarification of the U.S. position with respect to a change of government in South Vietnam.
6th
President Kennedy tells Ambassador Lodge, the U.S. doesn't want to stimulate a coup against Diem, but does not wish to thwart one either.
27th
Diem meets with Ambassador Lodge, but is unwilling to discuss changes to his administration
27th
Lodge tells Washington that he is powerless to stop the coup, the matter is entirely in Vietnamese hands.
November
1st
General Duong Van Minh leads an assault on the Presidential palace. Diem and Nhu initially manage to escape to the Cholon area of Saigon via an underground passage. After finally surrendering the following morning, the pair are murdered in the back of an Amored Personnel Carrier.
5th
The new government of South Vietnam (GVN) is announced. General Minh becomes President and Chief of the Military Committee, which will oversee a civilian cabinet.
5th
General Minh is announced as Chairman of the Executive committee of the Military Revolutionary Council
8th
The U.S. recognizes the new GVN
22nd
President Kennedy is assassinated in Dallas. Vice President Lyndon B. Johnson is sworn in as the new U.S. leader.
26th
In National Security Action Memorandum 273 President Johnson reaffirms Kennedy's policies and establishes economic and military aid to the new Minh government. NSAM 273 also states that plans should be developed for covert military operations up to 50km into Laos and asks the GVN to focus its counterinsurgency efforts on the Mekong Delta, where the Viet Cong threat is greatest.
GREYHOUND BUS AD
1963 NBA Finals: Boston 4, L.A. Lakers 2
Cousy Retires as Six-Time Champion
"The Boston Celtics are an old team," declared Sports Illustrated in March 1963. "Tired blood courses through their varicose veins."The Celtics, of course, went on to win their sixth title that spring and they added five more over the next six seasons. But SI's underestimation of Boston's strength had some basis in fact. Bob Cousy had announced that he would retire after the 1962-63 season. Observers viewed his departure as a major loss to the Celtics, but coach Red Auerbach wasn't losing any sleep.
The previous spring, he had drafted John Havlicek out of Ohio State. Auerbach had never seen Havlicek play until camp that summer. "I remember I was stunned," Auerbach later told reporters. "All I could think of was, 'Ohh. Have I got something here? Are they going to think I'm smart.'"
But Havlicek was just one of several new faces. Later Auerbach added Don Nelson, Bailey Howell and several more key pieces to the puzzle. Plus, Cousy's departure meant that the Jones duo, K.C. and Sam, became a larger factor. Most importantly, however, the Celtics still had Bill Russell, "the most dominating individual who ever played a team sport," according to Los Angeles Lakers coach Fred Schaus.
With the incredible Russell as linchpin, the team adjusted to the personnel changes without a hitch. The coach and center had come to dominate the NBA, and Auerbach toasted each victory with a cigar. "At first I didn't like Red Auerbach," a rival NBA coach once said. "But in time I grew to hate him."
All this controversy didn't translate into a crowd at the gate. If anything, the Celtics were too efficient, too businesslike in the dispatching of their foes. Regular-season attendance dropped to 6,800 per game. "Once we started to win, we almost did it too easily," agreed Cousy.
Boston claimed the Eastern Division with a 58-22 record and then faced Oscar Robertson and the Cincinnati Royals in a seven-game shakedown in the Eastern Division Finals. The Celtics survived a Game 7 shootout in Boston Garden, 142-131.
The Lakers also had to prove themselves, and they did so by beating St. Louis in a seven-game Western Division Finals. Jerry West had been out with an injury for seven weeks at the close of the season, and although he was back in the lineup for the playoffs, the team still hadn't worked out all the kinks.
Boston edged the Lakers 117-114 at the Garden in Game 1 of the NBA Finals. Game 2 wasn't much different, as the Celtics took a two-game series lead, 113-106. Back at their Sports Arena, the Lakers retaliated with a 119-99 blowout, only to see the Celtics take firm command by sneaking away with Game 4, 108-105.
Up three games to one, Auerbach was as confident as ever. "We've never lost three games in a row," he told reporters.
The Lakers headed back to Boston and found the stuff to survive. Tom Heinsohn was ejected, Cousy fouled out with 12 points and Los Angeles' dynamic duo went wild. Elgin Baylor had 43 points and West 32 as Los Angeles won 126-119.
The loss fueled speculation that the Celtics had run out of gas, and that the younger Lakers were about to surge ahead. "No," said Russell, "Los Angeles is not going to do any such thing."
Cousy seemed genuinely surprised by the assertion. "We are not the oldest men alive," he told reporters.
In Los Angeles, a throng estimated at more than 5,000 converged on the Sports Arena hoping to buy playoff tickets. When they found there were none, the scene turned angry. The Lakers quickly calmed things down by offering closed-circuit TV seats at $2.50 a head. By tipoff of Game 6, 6,000 such theater seats had been taken, to go along with the 15,000-seat arena sellout. "We were aware we were testing the future of pay television," Lakers general manager Lou Mohs told reporters.
The crowd at the Sports Arena on April 24 did its best to support the Lakers' comeback bid, but it was Havlicek who had the hot hand, scoring 11 straight points during one first-half stretch that put Boston up by 14 at the half. The lead had dipped to nine with 11 minutes left in the fourth period when Cousy tripped and sprained his left ankle. He didn't return until the five-minute mark. By then the Lakers had cut the Boston lead to a single point.
With 2:48 remaining, the Celtics were holding on, 104-102. Then Heinsohn stole a West pass to Rudy LaRusso, drove and scored. From there, Cousy worked the clock as he had in the old days. He dribbled out the last seconds of his career and threw the ball high into the air. Then he and Auerbach hugged, the final touch on the 112-109 win.
"Please," Auerbach crowed to the press, "tell me some of these stories about Los Angeles being the basketball capital of the world."
Russell said, "It's nice to be playing with the old pros. The old, old pros."
There was no champagne or beer in the Boston locker room. Why celebrate? When asked about it, Heinsohn replied, "We've won five in a row."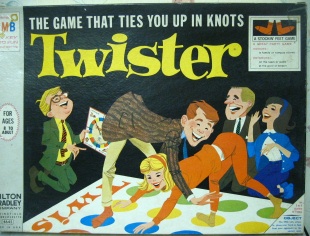 This is one way to makr a living= my parents
The Feminine Mystique: Chapter 1
"The Problem that Has No Name"
Betty Friedan
The problem lay buried, unspoken, for many years in the minds of American women. It was a strange stirring, a sense of dissatisfaction, a yearning that women suffered in the middle of the twentieth century in the United States. Each suburban wife struggled with it alone. As she made the beds, shopped for groceries, matched slipcover material, ate peanut butter sandwiches with her children, chauffeured Cub Scouts and Brownies, lay beside her husband at night--she was afraid to ask even of herself the silent question--"Is this all?"
For over fifteen years there was no word of this yearning in the millions of words written about women, for women, in all the columns, books and articles by experts telling women their role was to seek fulfillment as wives and mothers. Over and over women heard in voices of tradition and of Freudian sophistication that they could desire--no greater destiny than to glory in their own femininity. Experts told them how to catch a man and keep him, how to breastfeed children and handle their toilet training, how to cope with sibling rivalry and adolescent rebellion; how to buy a dishwasher, bake bread, cook gourmet snails, and build a swimming pool with their own hands; how to dress, look, and act more feminine and make marriage more exciting; how to keep their husbands from dying young and their sons from growing into delinquents. They were taught to pity the neurotic, unfeminine, unhappy women who wanted to be poets or physicists or presidents. They learned that truly feminine women do not want careers, higher education, political rights--the independence and the opportunities that the old-fashioned feminists fought for. Some women, in their forties and fifties, still remembered painfully giving up those dreams, but most of the younger women no longer even thought about them. A thousand expert voices applauded their femininity, their adjustment, their new maturity. All they had to do was devote their lives from earliest girlhood to finding a husband and bearing children.
Technology
AT&T introduces touch tone phones
Flymo Sells first Hover Mower
The first prototype Learjet takes off
Zip codes implemented in US
Lava Lamp or The Astro Lamp Launched by Edward Craven Walker




Inventions Invented by Inventors and Country ( or attributed to First Use )
Tape Cassette Netherlands ( Philips ) used to record and play audio
Pull Tab Can As Used For Soda U.S.A. Alcoa Company
Popular Culture 1963
This was the year an Insurance firm State Mutual Life Insurance invented the Smiley Face found on anything and everything around the world including T Shirts , it's popularity was at it's peak in the 1960's
The Beatles release their first album Please Please Me.




The first episode of the BBC television series Doctor Who is broadcast




Bob Dylan walks off the Ed Sullivan show




Beatles Release I Want To Hold Your Hand/I Saw Her Standing There and Meet the Beatles which is the beginning of Beatlemania.



Beatle's Release "She Loves You" in UK which goes to Number 1 for 4 weeks August 23rd


Popular Films
Cleopatra

The Longest Day

Lawrence of Arabia

Mutiny on the Bounty

To Kill a Mockingbird
Popular TV Programs
Coronation Street
The Andy Griffith Show
The Flintstones
Mister Ed
The Avengers
The Dick Van Dyke Show
The 16th Street Baptist Church in Birmingham, Alabama was bombed on Sunday, September 15, 1963. The explosion at the African-American church, which killed four girls, marked a turning point in the U.S.

1960s Civil

Rights Movement

and contributed to support for passage of the

Civil Rights

Act of 1964

.
The four girls killed in the bombing (Clockwise from top left, Addie Mae Collins, Cynthia Wesley, Carole Robertson and Denise McNair)


The bombing was the 21st in Birmingham in eight years, and the first to kill. None of the bombings have been solved.
As police struggled to hold back the crowd, the blasted church's pastor, the Rev. John H. Cross, grabbed a megaphone and walked back and forth, telling the crowd: "The police are doing everything they can. Please go home."
"The Lord is our shepherd," he sobbed. "We shall not want."
The only stained glass window in the church that remained in its frame showed Christ leading a group of little children. The face of Christ was blown out.
After the police dispersed the hysterical crowds, workmen with pickaxes went into the wrecked basement of the church. Parts of brightly painted children's furniture were strewn about in one Sunday School room, and blood stained the floors. Chunks of concrete the size of footballs littered the basement.
The bomb apparently went off in an unoccupied basement room and blew down the wall, sending stone and debris flying like shrapnel into a room where children were assembling for closing prayers following Sunday School. Bibles and song books lay shredded and scattered through the church.
In the main sanctuary upstairs, which holds about 500 persons, the pulpit and Bible were covered with pieces of stained glass.
One of the dead girls was decapitated. The coroner's office identified the dead as Denise McNair, 11; Carol Robertson, 14; Cynthia Wesley, 14, and Addie Mae Collins, 10.
As the crowd came outside watched the victims being carried out, one youth broke away and tried to touch one of the blanket-covered forms.
"This is my sister," he cried. "My God, she's dead." Police took the hysterical boy away.
Daley saw that the use of public housing to concentrate the black population was good for many reasons. By segregating it made the liberals happy, maintained segregation and it would control black votes. During the late 1950s the cities elementary schools were predominantly white. Benjamin C. Willis, a superintendent, came to Chicago to restore the school system. To help better the schools Willis thought that it was best to move the black students into empty warehouses instead of having them go into white schools. During all of this Daley did nothing to testify against what Willis was doing. Daley even gave Willis his vote of confidence of what he was doing. Tens of thousands of black students started to boycott classes during the fall of 1963.
Housing for blacks and whites became a major issue during the twentieth-century. Chicago soon became one of the most segregated cities in America.
WORLDS FAIR NYC
THE OSCARS BEST PICTURE

BEST PICTURE LAWRENCE OF ARABIA BEST ACTOR GREGORY PECK -TO KILL A MOCKINGBIRD
BEST ACTRESS ANN BANCROFT -THE MIRICLE WORKER
"Host Frank Sinatra nearly missed the show because he forgot his parking sticker and was turned away from the arrivals area by security guards. He had to park his own car elsewhere and run to the auditorium, barely arriving in time."[1]
Joan Crawford was infuriated when Bette Davis was nominated for an Oscar and she was overlooked. She contacted the Best Actress nominees who were unable to attend the ceremonies and offered to accept the award on their behalf should they win. When Anne Bancroft was declared the winner for The Miracle Worker, Crawford triumphantly pushed her way past Davis and swept onstage to pick up the trophy. Davis later commented, "It would have meant a million more dollars to our film if I had won. Joan was thrilled I hadn't."[2]
Patty Duke, the winner of Best Supporting Actress, achieved two feats. The first was for her portrayal as a blind, deaf and somewhat mute 7 years old girl Helen Keller remaining as the first actor to be won acting award at Oscar with a non-speaking role in nearly 14 years since the first actor which achieve this feat, Jane Wyman for Johnny Belinda in 1948. For her role, Duke did not have dialogue other than grunts, and can only sign in near the end of the film.

Root Beer Fizzies were my favorite.
The following documents, a sampling from the 1963-64 period, were selected to invite comparison and contrast with the 1964 Warsaw Pact war plan and related documents that are now available on the website of the Parallel History Project on NATO and the Warsaw Pact. The U.S. documents suggest how senior civilian and military officials in the Kennedy-Johnson administrations thought about nuclear war and nuclear weapons use in European and intercontinental military operations. The theater and strategic war plans that they approved, however, remain classified. Yet, basic planning concepts and nuclear targeting options in U.S. war plans come across as does the political context that shaped military planning.